Property Management
We Eliminate the Stress of Property Ownership
Comprehensive Financial Reporting
It's easy to keep tabs on your investment when we are managing it for you.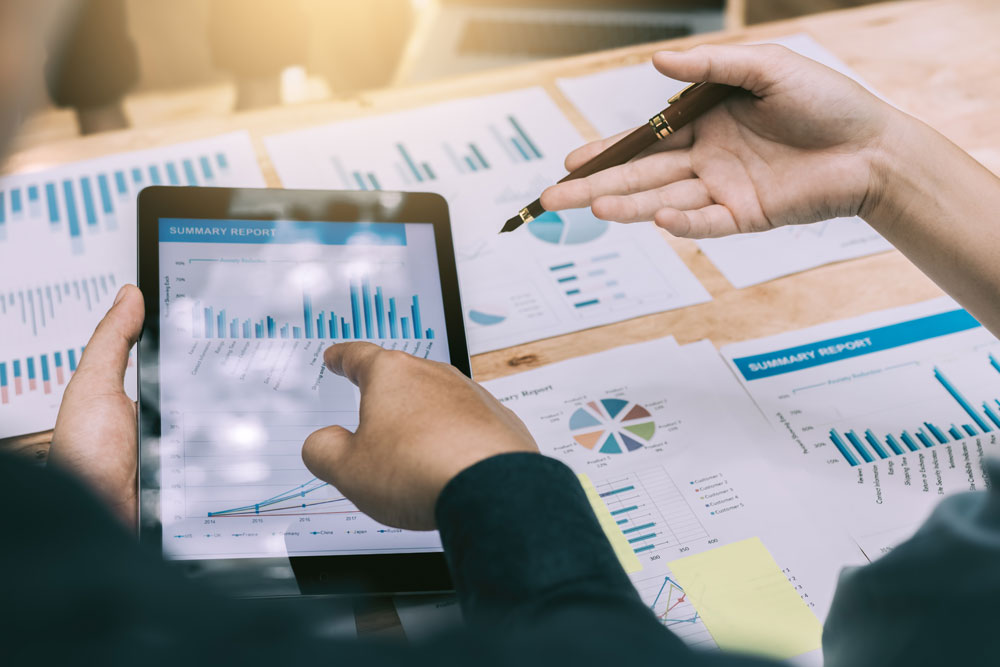 We track your financials and provide reports to you monthly through our secure, advanced and fully automated web-based accounting system. With our detailed financial reporting tools, it's never been easier to keep tabs on your investment.
All reports and tracking are further available at all times through the Owner Portal – just login and go!
Convenience and self service for review of all statements
Download owner statements & income reports
Log into your owner portal to view statements & more, such as:
Rent collection and processing
Payment of maintenance vendor bills
Payment of monthly items at the request of owners
Owner statement and direct deposit by ACH processing to your bank account
On an annual basis, you will also receive the following:
Tax statements and 1099s
Annual summary owner statement
Get started with your PROPERTY CONSULTATION by completing the form .
Schedule Your Consultation
As Your Grass Valley Property Manager, We Take Care of Everything.
Evaluation
Evaluation of the property including a "meet and greet" with the property owner(s) and a preliminary on-site visit to determine the property condition and assess if any cleaning or repairs are necessary. Evaluation of the current market rents of comparable properties to arrive at a suggested rental rate range.
Marketing
Marketing is essential to successfully renting a property. We will advertise your property on our website which syndicates the listing out to third party websites like Homes.com, Realtor.com, Trulia.com, etc. We are available 7 days per week via appointments to show properties to prospective tenants. Learn More >
Tenant Screening
The secret to a successful property management company is diligent tenant screening. We conduct extensive screening on all tenants and handle every aspect of getting your investment rented in the shortest time possible. Learn More >
Execution of Lease Documents
After the screening process is complete and a tenant is selected we will collect the security deposit funds and execute the lease agreement, addendums, and disclosures within 2 business days. We provide the tenant with all the information they need to transfer applicable utilities into their name. We conduct a comprehensive move-in inspection report with photos.
Rent Collection
We make sure you get paid on time, every time. You no longer have to worry about rent showing up in your bank account because we take care of everything so you have to worry about nothing. Deposits are made electronically each month after expenses are paid. Learn More >
Invoice Payments
We can pay invoices and bills on your behalf as long as the invoices are sent to us and the funds are available in your account. We ensure the vendors are properly licensed and insured before conducting business with them.
Maintenance
We are available 24/7 for property emergencies, maintenance requests, and to handle tenant issues. We provide coordination and supervision of all maintenance repairs from start to finish during occupancy at no additional mark-up of contractor's invoice. Learn More >
Ongoing Management
We conduct annual inspections that include documentation of the property's condition with photos. We report to you any concerns we have regarding the integrity of your asset and how to remedy it for longevity.
Financial Reporting
With our detailed financial reporting tools, it's never been easier to keep tabs on your investment. Log into your owner portal 24/7 to view statements and stay in tune with how your investment is performing. Learn More >
What Our Clients Have To Say
Reviews, Awards & Accreditations
Grass Valley Property Management Services

"I've had the distinct honor of working with Amelia Barrett for the past 3 years. It's rare in business to meet owners with such a high levels of integrity or concern for the well-being of their clients as she offers. My involvement with her has been through Barrett Property Management which she personally oversees the day to day operations. Amelia is also a woman of rare vision and has a keen sense of opportunity. I wholeheartedly endorse Amelia and Barrett Property Management for anyone's future real estate needs."
Grass Valley Property Management Services

"Professionalism, knowledge of Nevada, Yuba and Placer Counties markets. I think highly of Amelia for her business ethic, commitment to please and 'Do whatever it takes' to do what's right for her clients, rather than simply locating a property to put a roof over their heads and move on to the next client(s) that have a beating heart and are breathing, like other agents and unskilled property managers out there. Whether I was looking for a property manager to manage my rentals, or looking for an agent to locate me a residence to accommodate my needs and budget, I would hands down call Amelia and know I was in the best of care. BARRETT IS THE BEST OF THE BEST IN THE BUSINESS!"
Grass Valley Property Management Services

"She is one of the very best I have seen in the industry – organized, sharp, professional, works hard and really cares about the quality of her service and satisfaction of her clients. And believe it or not, she is a nice person. I recommend her services with no reservations, your property will be in excellent hands."
Grass Valley Property Management Services

"Amelia goes out of her way to ensure that your experience with her is nothing but the best. Her attention to detail, knowledge of the business and consistent and courteous follow through cannot be beaten in this industry. If you need your property managed or are looking for a place to live, go to Barrett Property Management first!"
Grass Valley Property Management Services

"Amelia's assistance on some recent real estate decisions has been admirable. She comes to meetings well prepared, offers thoughtful advice and always considers sensible options. Obviously well qualified in her field, I would have no hesitation in using her services in any ongoing real estate transactions. Excellent work."
Grass Valley Property Management Services

"Thanks for being a sharp, friendly and effective young woman business person… we both like and respect you."
Grass Valley Property Management Services

"We spent thousands to enhance our rental after the former tenant moved and lost income while the renovation was under way. We have years of experience placing our own tenant but we hired Barrett Property Management because of Amelia's superior screening process and the demands of our busy schedules. Amelia started working on it before the rehab work was done. She found us fabulous tenants that have exceeded our expectations."
Grass Valley Property Management Services

"Barrett Property Management is one of the best property management companies I have worked with over the past ten years, since I have owned rentals in various areas. I have worked with numerous other property managers and I have also managed my own properties, so I was not prepared to be impressed by anyone. Amelia runs an amazing service for people looking for a property manager or a place to rent. She is always thinking and she has her ears and eyes open for possibilities. If one lead does not work, she keeps her ears open for others. She has provided me with excellent ideas on how I could handle some complex situations and is very thorough in her handling of coordination and paperwork. Amelia is a person of high integrity; she will not take short cuts that compromise doing the right thing. She is also dependable, she says what she will do and then she does it. Her follow-through is impeccable. I wish more people had Amelia's high standards and down to earth personality. After interviewing several possible property managers to manage our property, I am glad we found Amelia. She is WONDERFUL!"
Grass Valley Property Management Services

"Woohoo! As good as it gets! Well, I could stop right there but I won't. Amelia has applied herself in getting multiple credentials and in serving an impressive apprenticeship with the county. When a prior tenant left my rental damaged, I realized I needed professional help. Enter Amelia: She came with high recommendations. That's the way it works. That is the key to her success! She made herself available day and evening, and went out of her way to help. She then gave her recommendations to get the property in shape to rent for new tenants. Then she advertised and placed a wonderful couple after thoroughly vetting them. Her legal paperwork and packaging was very complete, orderly and easy to understand. If I had a business I would hire her in a heartbeat…Wait a minute! I did hire her…as a property manager! "
Grass Valley Property Management Services

"Thank you Amelia for getting my place rented in 2 days!! Now that's a record! Thank you for your speedy work and professionalism."
Grass Valley Property Management Services

"I would like to recommend Amelia Barrett to you as your property manager — in my case she helped us place a client, by managing the rental ad placements, including the updates. That saved me time I needed, to prep and paint and get the apartment ready to rent. She is a well-informed PM, who stays abreast of current trends, property values or rents, but it is all well laced with a foothills sensibility and common sense practicality. I would not hesitate to recommend her to you, to find a rental, or help you rent yours out."
Grass Valley Property Management Services

"Any rental property owner who wants outstanding professional management services should contact Barrett Property Management in Nevada City. We've had rental properties for many years and we are truly impressed with Amelia Barrett and her staff. She knows what she is doing, works for both the landlord and tenants during the rental term, and has a great lineup of vendors to deal with any problems that might arise. I just wish I could clone her to handle our other rentals in other areas."
Grass Valley Property Management Services

"I recently leased a property in Colfax, Ca, through Amelia Barrett and I am here to say that she is on top of her game. She would meet me at the property on short notice, always was available and has some of the best people skills and follow up I have seen! I run a business that deals closely with clients and only wished she was on our business team. Definitely, I will recommend her to those looking to lease or purchase commercial or residential properties."
Grass Valley Property Management Services

"Amelia is Amazing. Amelia is extremely knowledgeable in renter rights and responsibilities. Not only is she a comfort to owners but to renters as well. We have had a difficult time getting out of our current rental and every time I needed help or a question answered Amelia was there. I strongly suggest her company and hopefully she will start a business to help renters because if it weren't for her we would be out $2600 instead of $400. Barrett Property management is reputable, honest and genuine something I am finding is hard to find these days."
Grass Valley Property Management Services

"Amelia, Thank you so much for all of your help! You kept us extremely informed, worked incredibly quick and we appreciate it so much! Thank you for everything you have done! We will most certainly be referring you to anyone we know who might be looking for a rental! We loved working with you! Thank you again Amelia!"
Grass Valley Property Management Services

"From the start Amelia was extremely helpful with finding our new house! She was always quick with phone calls we had or questions needing an answer. Throughout the whole process she knew what she was doing. The paperwork signing went very smoothly. My husband and I will definitely go through her company again in the future!!!"
Grass Valley Property Management Services

"I recently signed a lease for a rental through Barrett Property Management, and I have rented two other times in the past. In my searches I have also spoken with several rental agents and landlords, but wow, Amelia has been amazing to work with. From the first phone call, to lease signing, she has been incredibly helpful. She consistently goes above and beyond my expectations. One of my favorite things about Amelia and Barrett Property Management is that I would choose them if I were on either side of the coin, as a tenant or a landlord. I had tons of questions, and she happily and patiently answered them all. The process for inspecting and documenting the house on move-in was very thorough which put me at ease that when it comes time to move-out we won't be hit for any of the small things that existed previously. Overall, I think we got lucky to meet perhaps one of the best agents in the county. Thank you Amelia for being awesome."
peace of mind, guaranteed.
Cancel Anytime
We believe in quality customer service. If for any reason you wish to discontinue your service with us, you can cancel your agreement at any time.
LEARN MORE >
Results First!
You don't pay us until we show results! If we are leasing your property, we do all the work up front and you do not pay us until we place a qualified tenant.
LEARN MORE >
Superior Reputation
100% of our tenants paid rent on-time through the pandemic! We have not found another property management company which that is true for!
LEARN MORE >
What is your rental worth?
Get a no obligation rental analysis today.