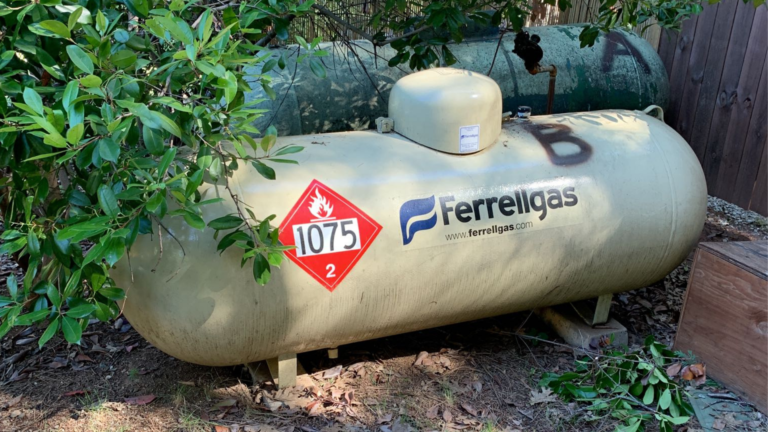 Propane, also known as liquefied petroleum gas (LP or LPG), is a safe alternative fuel when used properly. It's a clean burning and reliable source of energy that can power appliances, hot water heaters, furnaces, fireplaces, and more. Homes in Placer and Nevada County that are not connected to a natural gas line will often have a propane tank on the property. While propane is a safe source of energy, all users should always be familiar with propane safety tips.
In the case of a suspected or known propane leak, immediate action should always be taken to ensure the safety of your family, home and surrounding neighbors. Even if you're unsure if there is an issue with your propane tank or appliances, it's better to err on the side of caution than to dismiss it. The follow steps are good guidelines to keep handy should you come across this situation.
Report it
If you smell an odor that resembles rotten eggs or a skunk, it's an indication of a propane leak. Contact your propane company immediately. If they can't be reached, call 9-1-1.
2. No Flames, Sparks or Gas
Make sure there are no open flames, cigarettes, or gas burning appliances in use. Turn off the main supply valve located on the propane tank, if it is safe to do so, by turning it to the right (clockwise) until it stops.
3. Evacuate the Area
Once the gas has been turned off, make sure everyone is out of the home and don't return until the propane company confirms it is safe to do so.
4. Have Your System Checked
Before you can being using any propane burning appliances again, your propane company will need to come out and do a thorough inspection of the tank and system to ensure it is safe to continue using. Do NOT skip this step. Even if you turn off the tank for a period of time and then turn it back on and do not smell gas, ALWAYS have the system checked out before proceeding.