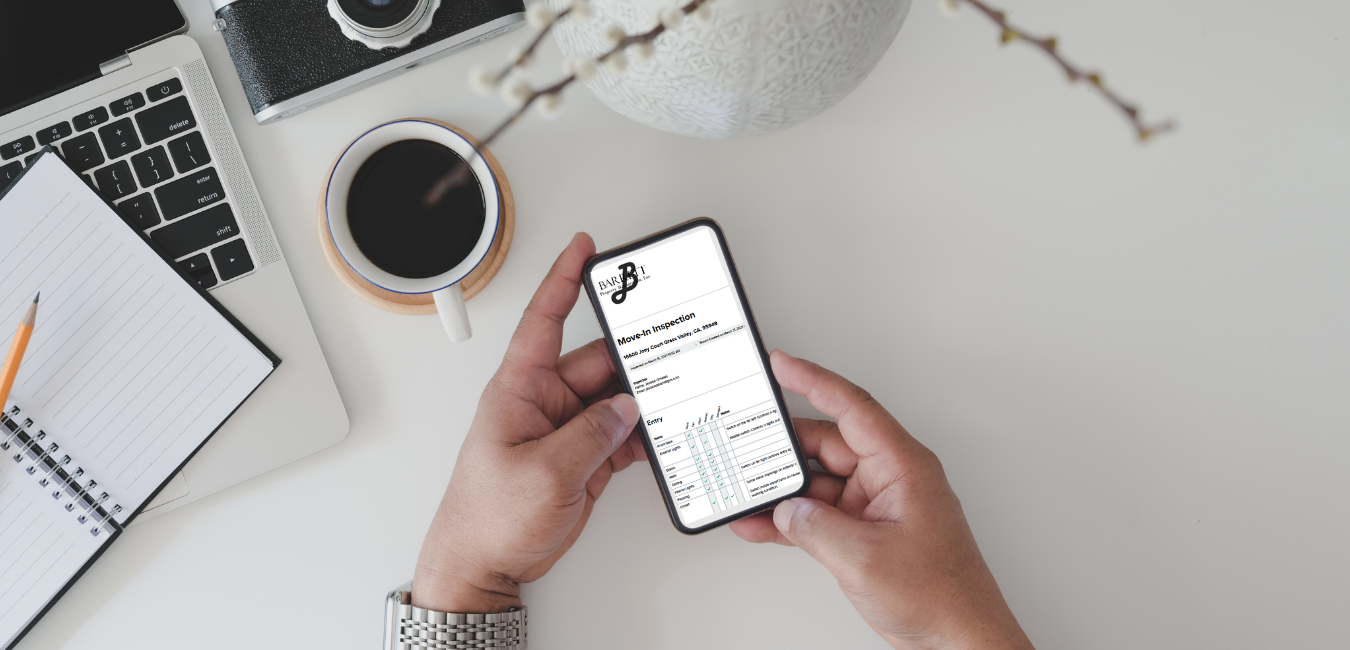 If you own a rental property in Grass Valley, Nevada City or Auburn California and you are considering renting it out, one of the greatest concerns you may have is regarding the condition of your home after tenants vacate. This is a valid concern! While some tenants may keep the home meticulously clean and well-maintained, others simply don't make it a priority.
Regardless of the level of enthusiasm that tenants may have when it comes to taking care of your investment property, we can certainly help to protect your assets. The first step in this process when placing a new tenant is to create a detailed Move-In Inspection Report. There are a variety of template checklists you can find on the internet or you can create your own if you are self-managing. If you hire us to place a tenant for you, we will provide this service to you at no extra charge.
What is the Purpose of a Move-In Inspection Report?
The purpose of the Move-In Inspection Report (also known as a Rental Move-In Checklist or Move-In/Move-Out Form), is to document the condition of the property prior to a tenant taking possession. This will be the baseline for the condition of the home and will help to protect both the owner and the tenant once the lease is up. After the tenant vacates and the property is assessed for damage and repairs that need to be made (minus normal wear and tear), the Move-In Inspection Report can be used to compare the current condition of the home (how the tenant left it) to the move-in condition.
The most common source of landlord/tenant disputes is usually related to the tenant's security deposit disposition. With a solid inspection report in hand, you can rest easy knowing that any security deposit deductions will be done legally and fairly since you have proof of the original condition of the property. (Note: Normal wear and tear is not to be deducted from a security deposit.)
What Goes Into A Move-In Inspection Report?
A thorough rental property Move-In Inspection Report should contain information on the condition of each and every room in the home, including the garage, and other items such as appliances, light fixtures, smoke/CO detectors, landscaping, etc. Anything that the tenant has access to and use of should be documented. Below are some notes with regard to the documentation process.
• Carpet/Flooring: Although tenants cannot be charged for normal wear and tear of carpets or other flooring, they can be charged for damage. For example, if they had pets in the home (authorized or not) and there are urine stains or smells coming from the carpet, they should be charged for the damage caused. Documenting that the carpets were steam cleaned and stain/odor free prior to move-in is essential for instances such as this.
• Imperfections/Damage: Scratches, markings and nail holes in the walls should all be documented prior to tenancy. Other imperfections or minor damage such as a chip in the kitchen sink or a broken mini-blind slat that won't be repaired should be noted, as well. If there are items that are not operational and won't be repaired (i.e. trash compactor), be sure to list it in the report.
• Note Items in New/Clean/Good Condition: Inspection reports aren't just for reporting blemishes or items in distress. They should also be used to document items in good condition. If the walls were recently repainted, note it! If new carpet or window coverings were recently installed, note it! If there are brand new light bulbs, window screens, and brand new appliances…NOTE IT! It's hard to dispute the condition of an item that is noted as brand new.
• Note Repairs Made: Whenever items are repaired, whether they were noted as damaged at the beginning of the tenancy or not, be sure to document the repair in writing and with photos, if possible. This will prevent a tenant from claiming repairs were never made.
• Photos: Take lots of them! In the case of a dispute over verbiage on an inspection report (or lack thereof), photos are a great source of proof for determining the original condition.
Our Move-In Inspection Process
Our inspection reports are generated using a mobile software application that allows us to document the condition of each room in your home including the floors, walls, ceilings, windows, doors, lights, plus the items mentioned above and more. Within the report, we have the ability to add notes and take photos of any items in each of the sections so we can easily refer back to them later. A PDF of the completed report is generated and can be emailed to the tenant and owner as proof of documentation. We typically complete the move-in report on our own and then allow the tenant 3 days after taking possession to notify us of any discrepancies.
Is It Really Essential to Have a Move-In Inspection Report?
Yes! Having a detailed move-in inspection report prior to tenancy is critical to the success of your investment property and here are the main reasons why:
• Accountability: Providing the tenants with documented proof of the condition of the home will help to keep them accountable in how they care for it during their tenancy.
• Simplifies Security Deposit Disposition: At the end of a tenancy, simply review the move-in inspection report and compare it to the condition of the home in its current state and then deduct damage costs (not wear and tear) from the tenant's security deposit. If they dispute the charge, use the move-in report as proof.
• Deferred Maintenance is Expensive: Over time, if damage goes undocumented or unaccounted for, it will build up and lead to costly repairs. For example, you might not think it's worth noting a small section of the bathroom flooring near the tub is pulling up, but if it's not properly noted and addressed, it could get worse during the tenancy and ultimately lead to the subfloor needing to be replaced due to water damage. It's always better to address issues as they arise and make repairs as needed.
• Lowers Expenses: When done correctly, a move-in condition report can help keep your costs down by allowing you to charge the tenant for items that have been broken, neglected or damaged. Keep in mind that you cannot charge tenants for normal wear and tear.
Let Us Help!
If the idea of doing a thorough move-in inspection sounds daunting for your Grass Valley, Nevada City, or Auburn CA rental property and you're looking for help, feel free to give us a call. We provide this report when we do a Placement Only service for a client and we also do it when we are actively managing a rental property and there is tenant turnover. Let us help you take some of the tasks off your list!
Written by Jessica Ornelas | Realtor®/Property Manager | DRE# 02042367
Edited by Barrett Property Management, Inc.